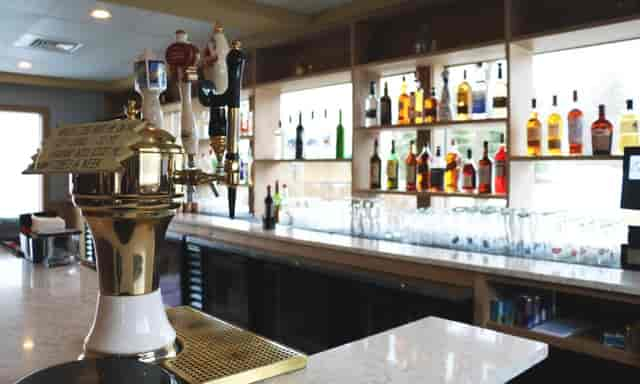 About
The Perfect Retreat
Located just minutes from I-84′s exit 2, yet surrounded by awesome rolling hills and overlooking the luscious greens at Richter Park Golf Course (ranked one of the top 25 public courses in the U.S.), Cafe on the Green is an easy-to-reach, hidden treasure. A convenient, fine dining retreat that is perfect for corporate holiday parties, business lunches, retirement parties and a host of other special events. Tracey Kydes, owner and operator for twenty years, will personally work with you to customize an appropriate menu and setup that best suits your needs and budget. Whether it's an impromptu party of two or an arranged affair for 120, Tracey takes pride and pleasure in making your occasion a memorable one.
Ambiance
The upscale décor and table settings along with attentive and gracious service are enhanced by the sweeping views provided by huge picture windows that encompass three sides of the restaurant. After nightfall, spotlights illuminate the 18th green and the 10th fairway. All of this is surpassed only by the sumptuous Northern Italian cuisine and a menu that offers a full selection of appetizers, entrees and desserts.
Capacity
The dining room comfortably seats up to 120 people in a relaxed and elegant setting. Between May and October another 60 people can enjoy outside dining on the exquisite patio where diners' vistas are the beautifully manicured grounds. If it's cocktails you're interested in, you and your party can enjoy a leisurely drink on the spacious veranda. If you're looking for more casual fare, The Grill Room, which is more typical of a 19th hole type eatery, can accommodate as many as 70 people. During the golf course's off season, from December through March, this room may be utilized for private functions.
Private Dining Parties
Sometimes the success of a dinner party is all about the privacy. Now you can enjoy a special dinner party or event for 25 to 50 people in a truly private area of the restaurant. In this separate space you can shower a bride-to-be or an expectant mom, take comfort with family and friends at a funeral reception, roast a retiree or birthday person, or simply celebrate one of life's occasions while savoring delicious food and experiencing excellent service. For more information see our private party menu, email a request for more information, or call us at (203)791-0369.
Reputation
In 2011 Café on the Green received the Wine Spectator's Grand Award for seventh year in a row. And, once again Zagat has rated Café on the Green one of the best restaurants in the area in the 2008-2009 Zagat Survey Restaurant Guides for both Westchester and Connecticut. In 2008, Zagat truly honored us as one of the top 1000 Italian Restaurants in the United States. Their comments include: Take a seat at the big picture windows or just relax outdoors on the patios at this comfortable, lovely Italian, a big secret lurking right on one of the country's best public golf courses; the views of Richter Park are simply magnificent, and while the tasty dishes are all above par, the "impeccable" bananas Foster flambéed tableside scores a birdie.
Availability
Cafe on the Green is open for lunch and dinner seven days a week.
Danbury
100 Aunt Hack Road
Danbury, CT 06811

Hours
Monday - Sunday:
11:30 am - 9:00 pm